CLICK TO CALL

MAP IT
Dental Implants
Restore The Health And Function Of Smile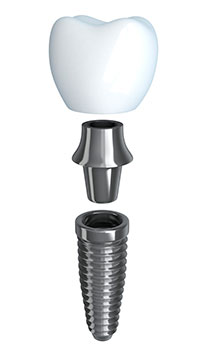 Restorative treatments are used when teeth need to be filled or replaced. The end result is a solution that blends seamlessly with your natural teeth. We offer white fillings - a virtually unnoticeable method for filling cavities. We also offer natural-looking implants, crowns and bridges to replace missing teeth.
At Northgate Dental we can help you restore your smile back to a beautiful, natural look. Whether it's a full set of new teeth or the repair of a single tooth, our office has the skill and technology to improve your smile. Enjoy an enhanced quality of life and improved confidence with our restoration services.
Our restoration services include:
Dental Implants and implant placement
Porcelain crowns & bridges
Dentures
Dental Implants in Brampton
If you are missing teeth or suffering with loose-fitting dentures or an uncomfortable bridge, talk to us about dental implants.
Dental implants are a permanent solution to missing teeth. Unlike traditional dentures and bridgework that can move around and cause discomfort or difficulty eating, implants are anchored in the mouth. Posts are installed in the jaw and act as a base or anchor for artificial teeth, bridges or dentures.
The benefits of implants are both aesthetic and functional:
They have the look and feel of real teeth, giving you more a more natural smile.
They stay in place, so you can eat what you like without worrying about loose dentures.
They can improve speech by securing replacement teeth in the mouth.
They protect remaining teeth from drifting and prevent bone loss.
Dental implants are the ideal solution for missing teeth. They offer the security and confidence that other types of replacement teeth cannot. They bring a natural and healthy appearance to your smile.
To learn more about Dental implants for your missing teeth, contact our office and speak to a member of our team. 905-458-4111